Diving in Moalboal with Quo Vadis Dive Resort
Moalboal has a vast variety of dive sites with a rich marine life and healthy coral. Almost all of the dive sites are within mere minutes with Quo Vadis' two dive boats. The boats goes out two times a day. The first trip starts at 08:30 for two dives. In turn you'll be back at the resort before 13:00.  The Second trip starts at 14:15 for one dive and so you will be back at the resort before 16:00. Furthermore, our diver to guide ratio is 4:1. When diving in Moalboal you may expect to find some amazing marco life and the depths varies between 3m to 40m meters. Onboard of our dive boats there is plenty of storage space for underwater cameras in addition to your other personal equipment/belongings.
We Care For Your Comfort And Safety
     Further to the recent COVID-19 pandemic, we'd like to reassure all our customers that your safety and welfare is of paramount importance to us.
     As a PADI 5 Star Resort, our aim is to provide the highest level of care while still focusing on fun and rewarding experiences, which as our customer you have come to expect
Quo Vadis Dive Resort is proud to be a founding member of the Moalboal Dive Association, and we have introduced simple, yet effective measures, setting the standard locally in reducing risk, through manageable social distancing, cleanliness and disinfection routines within our facilities and the care of our diving/snorkeling equipment.
All the Quo Vadis PADI Instructor team have recently successfully completed both:
PADI COVID-19 Reduction in Risk – Best Practices
First Response Training International for Airborne Pathogens
    For further information on this and the great services we offer please email the
Quo Vadis Dive Resort team.
Moalboal is famous for its many dive sites with great walls ranging from beautiful reefs at 3-5 m down to a bottom at around 40-45 m. For the most part you will experience an array of macro life but every now and then you might find something bigger such as Thresher shark or giant Trevally. Importantly, the main attraction here is the Sardine run with over 7 million sardines in one school. It's the second largest in the world, as such it is a must while you spend your time here. let's just say diving in Moalboal is incredible!
What is a PADI 5 Star Dive Resort?
"PADI Five Star Dive Resorts excel in providing traveling scuba divers with memorable scuba diving experiences by providing professional and outstanding service. These dive operations are progressive PADI Resorts that offer the full range of PADI scuba programs, have a good equipment selection and offer dive activities that promote aquatic environmental responsibility".
– Drew Richardson. CEO PADI 
Dive The World Famous Sardine Run!
Famed for being the second largest sardine school in the world. It's no wonder that this is what puts Moalboal on the map for divers and snorkelers alike. Located only a few minutes Northward it is easily accessible at all times by either boat or tricycle. Likewise even swimming or walking is a short distance if snorkeling was your intention. With the sardines' depth ranging from 1-12 meters it is ideal for first time divers as well as to the vastly experienced. Of course, the main attraction here is the sardines themselves. To be completely surrounded in such a large school of fish is hypnotic and something you'll remember for the rest of your life!
"The Best House Reef for diving in Moalboal."
Being guided out to the reef wall by mooring lines in the shallows, you end up reaching the drop off for our incredible reef. The reef itself is packed with some of the most beautiful and healthy hard corals the area has to offer. When descending deeper you can see a vast array of colourful soft coral, big barrel sponges and gorgonian sea fans. These are the home to some very special creatures such as: hairy squat lobsters, ornate ghost pipefish, robust ghost pipefish, giant frogfish, painted frogfish, sexy squat shrimps, peacock mantis shrimp, candy crabs, orangutan crabs, pygmy seahorses and so on.
As the sun sets over the horizon our house reef transform into incredible place. It inhabits the very unique mandarin fish that come and display the spectacle of their mating ritual. There really is no better way to start a night dive than that. Additionally, Blue-ringed octopus and leafy scorpion fish tend to surprise us on night dives pretty regularly in addition to many other marine species that come alive after dusk. If you haven't tried the night diving in Moalboal then come by and do it with Quo Vadis!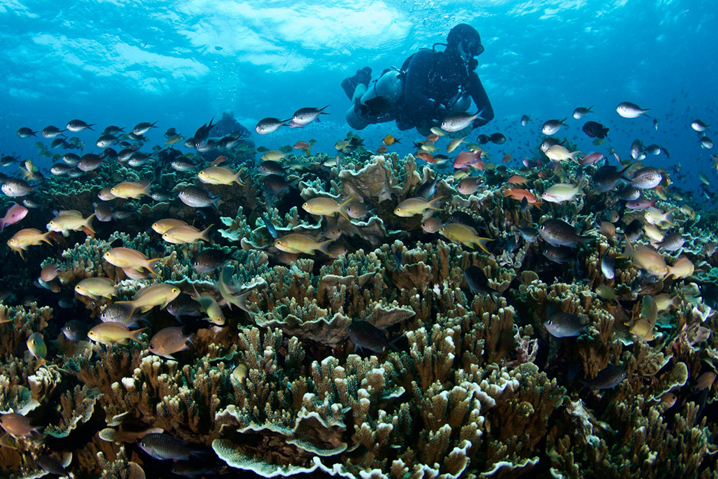 Pescador Island takes roughly a 15-minute boat ride Westward from our resort and is located in the Tañon Strait. The name of the island is derived from the Philippines' Spanish colonial heritage and the great amount of fish living around it, and it means "Fisherman Island". As much as it is still called Fisherman Island, it is now a protected marine park and so in turn, no more fishing is allowed.
When we dive around Pescador, we divide the island into 3 different dive sites: Pescador West, Cathedral (lays on the North West) and Pescador East. When current is present, we apply the rules of drift diving and are able to pleasantly cruise around one side of the island.
Combine Your Diving With Nitrox
For added safety and fun diving you should always consider using Nitrox when doing repetitive dives or when diving deeper. At Quo Vadis Dive Resort our trained professionals mix the gas for you. Add the gas for only 300 php / tank when booking.
​Not yet certified?
Getting your Enriched Air- Nitrox certificate is both easy and fun. Book the Nitrox course online and get the gas for FREE!
Umbrella is only a 10-minute boat ride North from our resort, and it is one of the best macro dives you can do in Moalboal area. Once you submerge, a shallow sloping reef guides you from one coral bommie to another (and to another) and then to the little aeroplane wreck that lays at approximately 20-22m of depth.
Apart from the strange sight of seeing a small aeroplane under water, this dive site is full of surprises. With your nose in the sand, this is the ideal place for underwater photographers to get a good shot of a variety of macro marine life, including Pegasus Seamoth, Robust Ghost Pipefish, Ribbon Eels, Octopus, Peacock Mantis Shrimp, Harlequin Crabs and Spiny Devil Scorpionfish and if you have a really good eye, Stonefish.
As soon as you go past the aeroplane wreck, the sloping reef drops off into a wall full of more treasures! In the feather stars, you can look out for Ornate Ghost Pipefish and Crinoid Lobsters and shrimps.
Rental equipment included.
| | 1-6 dives | 7-15 dives | 15+ dives |
| --- | --- | --- | --- |
| Boat Dive | 1,855 php | 1,750 php | 1,730 php |
| House Reef | 1,630 php | 1,525 php | 1,500 php |
| Night Dive | 2,015 php | 2,015 php | 2,015 php |
Own equipment.
| | 1-6 dives | 7-15 dives | 15+ dives |
| --- | --- | --- | --- |
| Boat Dive | 1,455 php | 1,380 php | 1,355 php |
| House Reef | 1,335 php | 1,260 php | 1,230 php |
| Night Dive | 1,575 php | 1,575 php | 1,575 php |
Please observe: Mandatory php 100 Gov. Marine park Fee/dive not included in above price and will be added separately
Special diving offers
                           Rental Equipment                               Own Equipment (Incl BCD, Regulators)
                          Option                                         Daily Rate ₱                                                       Option                                          Daily Rate ₱
3 Dives with Lunch
5565
3 Dives with Lunch
4365
3 Nitrox Dives with Lunch
6525
3 Nitrox Dives with Lunch
5325
Unlimited Dives
5965
Unlimited Dives
4765
Unlimited Nitrox Dives
6925
Unlimited Nitrox Dives
5725
Lunch is available from Divers Menu from our Arista Restaurant
Nitrox dives available only to Enriched Air Nitrox certified divers
For Unlimited Dives, Safe Diving procedures including Non Decompression Limits and Surface Interval times must be observed